The adventure park "Le Fiorine"
Adventure Park "Le Fiorine"
A "jump" into the adventure, in full respect of nature
The adventure park "Le Fiorine" has been realized by the Colli Euganei Regional Park and the Province of Padova. It develops over two hectares of woods made of oak, chestnut and cork trees, where you will find routes suitable for anyone who wants to spend some hours in touch with nature. Skilled personnel and a suitable equipment will guide you in an unforgettable experience rich in explosive emotions.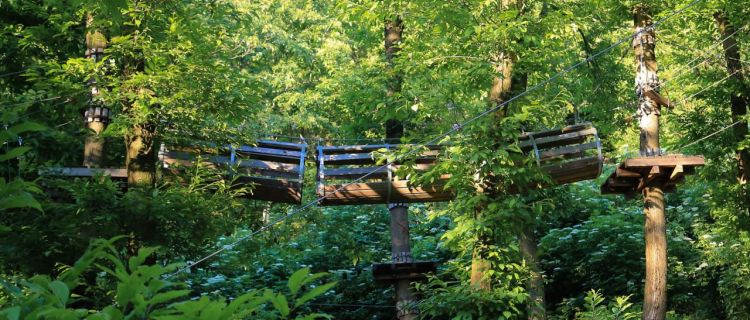 The five routes are divided on the basis of age and athletic training, four of them are marked by a colour, such as ski slopes.
1. "Briefing" route: instructors have the task of teaching the techniques to apply for who wants to try the air routes and also how to use the equipment provided.
2. "Green" route: it develops at a height of approximately one meter above the ground and it is addressed to children (3-7 years old).
3. "Blue" route: it mainly focuses on children and young adults, but it is also addressed to beginners who want to perform their route from a low height.
4. "Red" route: blue and red routes are equally addressed to young adults and adults from a height of 145 cm to the wrist with outstretched arm.
5. "Black" route: only the most expert agree to test their abilities in a route at a height of 14 meters above the ground!
The adventure park is located in natural reserve area, and the equipmnet has been designed to prevent damages to the local arboreal species for a full respect of the surrounding landscape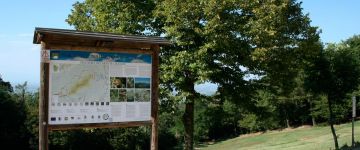 The Monte Grande path has a lenght of 4,2 km and it winds in the woods; the route does not present particular difficulties, being suitable also for less-trained hikers.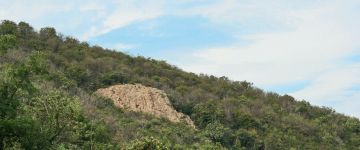 Route for rock climbing and wonderful viewpoint, is only 1,3 km away. It is a small cliff made of volcanic rocks, but protruding above the southern side of Monte Grande.