Monte Grande path No. 14
No. 14 path of Colli Euganei Regional Park
No. 14 path of Colli Euganei Regional Park
The Monte Grande path, restored with the assistance of the Regional Forest Service and the funding of the Ente Parco, has a lenght of about 4km and the route does not present any particular degree of difficulty also for the less trained hikers.
The starting point is planned from the lawn next to the Fiorine lodge and where there is a detour to the route that will lead you to Rovolon township and to the ruins of an ancient medieval castle. Continuing down the forest trail that runs along the northern slope of the mountain, you will reunite to the east with a winding road carved into the rocks.
The vegetation is made of a massive presence of chestnut trees favored by an ancient cultivation technique, that considered all the arboreal species minor than chestnut trees. The numerous fires involving this forest, have deeply impoverished the soil, threatens the survival of rare beech trees. Thankfully, the Regional Forest Service is working to restore these areas damaged by fires, encouraging the rebirth of the forest following the nature's rhythms.
Along the path, i twill be possible to distinguish works realized with boulders to protect the slopes, especially near stream beds of rainwater; furthermore near a pitch. You will notice along the slope true and real wooden and rocky engineering works to avoid the harmful effects of erosion by rainwater.
Arrived to a crossroad, there will be the beginning of the climb to the Monte Grande top, easily recognizable from the radar of the Experimental Center for Hydrology and Meteorology of Teolo.
At first the path will guide you to the ridge of the mountain and after along the southern side full of ash and oak trees, and a undergrowth of rockroses, heather and arbutus.
The southern side of the Monte Grande is characterized by quarries of trachytic stones where it's possible to note examples of columnar jointing generated by the rapid cooling of incandescent magma during the lower Oligocene.
Passed the turn and crossed a cool forest of oak and chestnut trees, you will find yourself at Lieta Carraresi Park, more known as Fiorine path, where you could make a stop and come back to the starting point.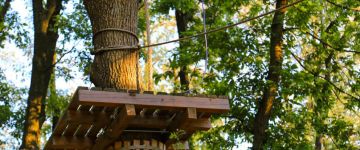 The adventure park "Le fiorine" is at a short distance from the Danieletto farm. It is a green area where you will find routes suitable for anyone who wants to spend some time in touch with nature.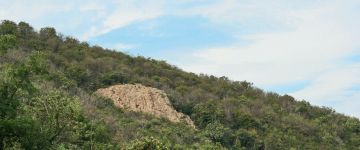 Route for rock climbing and wonderful viewpoint, is only 1,3 km away. It is a small cliff made of volcanic rocks, but protruding above the southern side of Monte Grande.